Overview
TPP models are small storage tanks for water treatment chemical products on using points. Common call day tanks are useful for local dilution and preparation procedures or just for dosing. High versatility, easy transport and storing, built from HDPE sheets by welding and extrusion procedures are compatible with most part of commercial chemical products and for that an additional value on conception and erection of water treatment plants.
The simple conception with flat cylinder tops (roof and floor) turns the TPP range easy and economic manufacture. The flat roof is very useful to install dosing pumps and/or other accessories.
Optionally can be requested internal roof reinforcements to support heavy parts like mixers on the top, avoiding long term deformations. For mixing applications should be requested internal vertical baffles to avoid vortices with consequent vibrations, that can damage the mixer and the tank itself.
Standard design includes two connections and tread lid in proportional dimension of tank size in position of application convenience, but optionally can be installed additional and other sizes connections, dosing pumps shoulders or brackets, level sensors and other accessories.
Range of tanks normally build in HDPE but available in other materials depending of process requests or costumer exigencies.
Free selectable diameter/high configuration available with our engineering department to cover the most exigent specifications.
Large type of lids, connections, bunds, levels and other possible accessories are available and can be installed as project specifications.
Details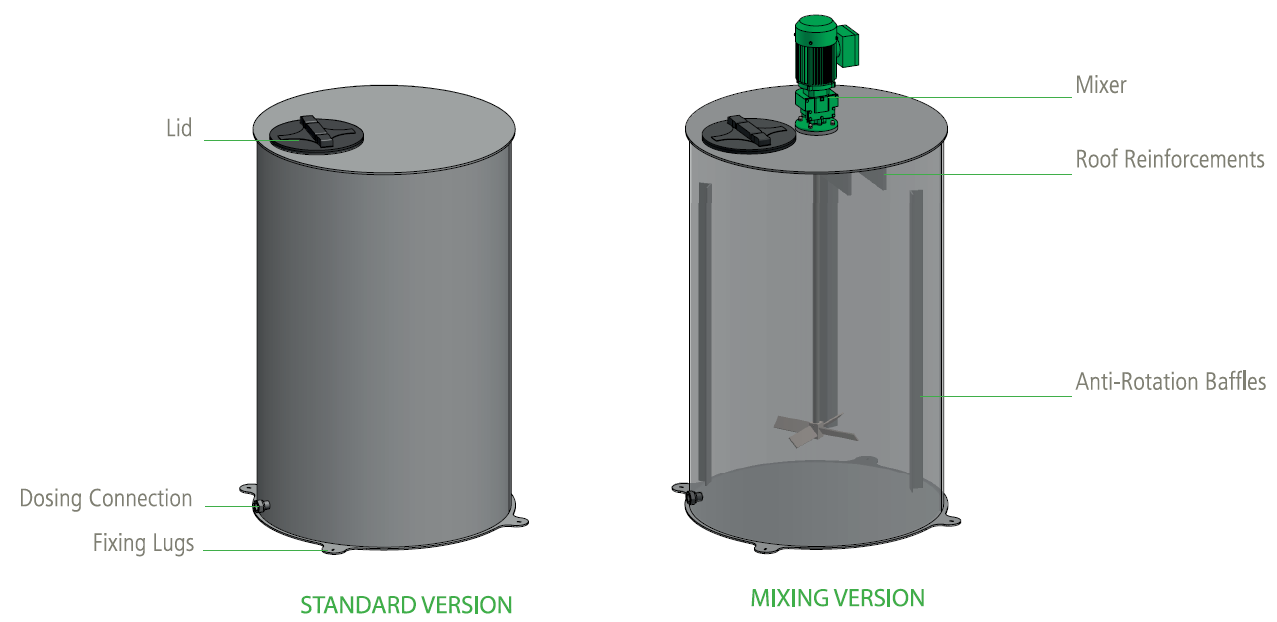 Technical specifications

Download
This content is restricted to site members. If you are an existing user, please log in.
New users may register.