Overview
AMR models are High speed mixer built with small marine impeller and direct transmission driving, ideal for dissolutions of solids chemicals in water, mixing liquids or just simple homogenization process.
The shaft mixer is the extension of four poles motor shaft, running at 940 rpm, in three phases or single phase versions, giving a compact and flexibility necessary for high speed mixers performance.
Available in P version, with shaft cover and impeller in polypropylene for corrosive medium or S version, with shaft and impeller in Stainless steel for abrasive applications. In both cases the fixing flange in PP. This general arrangement becomes a very good and economic propose for small mixing applications
High speed mixers must be installed in tanks with Anti vortices baffles and ensure a minimum liquid level (at least ½ of shaft) to avoid vibrations in the structure that will create deformations in the tank and possible shaft warping. This unit's can´t working in continues mode to avoid premature damages in motor.
The moisture viscosity, relative position of mixer in the tank, tank geometry, height of possible particles in the liquid, presence of corrosive vapors and the working liquid level will determine the efficiency of agitation as expected mixer life.
Range presented in polypropylene or stainless steel versions adapted to all chemical preparation systems.
Best economical mixers compromise for small mixing water treatment systems.
Motor versions in three phases or single phases with free maintenance program during expected life.
Details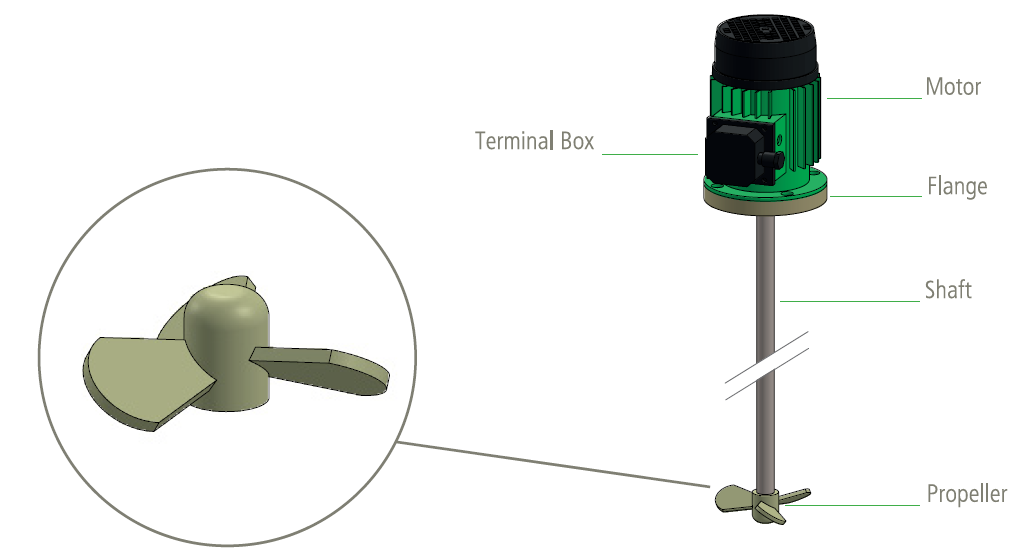 Technical specifications

Download
This content is restricted to site members. If you are an existing user, please log in.
New users may register.